Restaurant Opened! Here's What Restaurants Can Learn from Japanese Space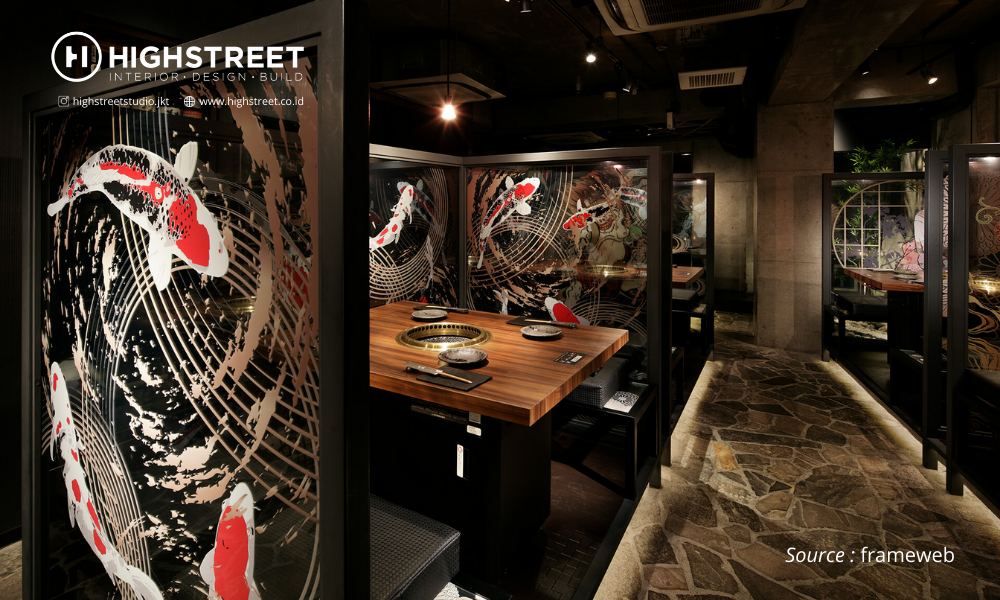 Interior Designers: Contact us via Highstreet to realize your dream building and follow our blog for updates on building inspiration.
When the COVID-19 pandemic occurred around the world, the hospitality business, and more specifically in the food and beverage or restaurant industry sought solutions to reopen their doors, while still feeling worried about a pandemic with rising curves in Indonesia. Around the world, these businesses are starting to try to create new ways to give their visitors a clean place while still paying attention to everyone's safety. Several restaurants have changed their restaurant design during this new normal period. The most publicized alternative is the Serres Séparées project, this design concept can accommodate visitors in five small greenhouses, the Mediamatic Eten vegan restaurant at Mediamatic Biotoop in Amsterdam. The design will remind you of glass dining rooms and cafes that have been found throughout London in 2019, such as The Lodge, CoppaClub Bridge Tower, Aviary, and Skylight Rooftop which are only a few. Another solution that is widely shared for the development of restaurant design is the Plex'eat concept proposed by Christophe Gernigon. The presence of transparent acrylic from the ceiling and placed on each chair to protect the visitors still make them feel comfortable to enjoy the dining experience in the restaurant.
Unlike in Amsterdam, restaurants in America place dolls to fill chairs that cannot be used. Through such a design arrangement, restaurants can create social distance between the seats occupied. Not only that, the placement of dolls there to fill in the blanks and make the restaurant look crowded, or reduce awkwardness when eating in an almost empty room, not many visitors who come. In the selection of dolls, some restaurants do not choose randomly, The Inn at Little Washington in Virginia has other unique ways, such as dressing artificial dolls that they place in the style of the 1940s, they choose dolls to match the interior design of their restaurant. So, the comfort of your restaurant interior design can still be felt. However, most of the solutions from these choices are pop-ups or temporary design solutions that have not been able to prove their efficiency and attractiveness in the long run if implemented. But, you don't need to worry, there are other choices for the interior design of your restaurant that you can apply. One option is to learn from Japanese interior design.
Japanese Restaurant Interior Design
You need to know, the Japanese government declared a state of emergency in seven prefectures with the most populous population, but was expanded 10 days later to cover the entire country. After the regulation was imposed, most restaurants closed their places, something that had never been seen in Japan before. However, a few days after the state of emergency was declared to end in Japan, the spatial design of the existing restaurant made them reopen the restaurant faster than the restaurants that were abroad, without the need to think in advance of their functions, except for some pandemic precautions when visiting restaurants.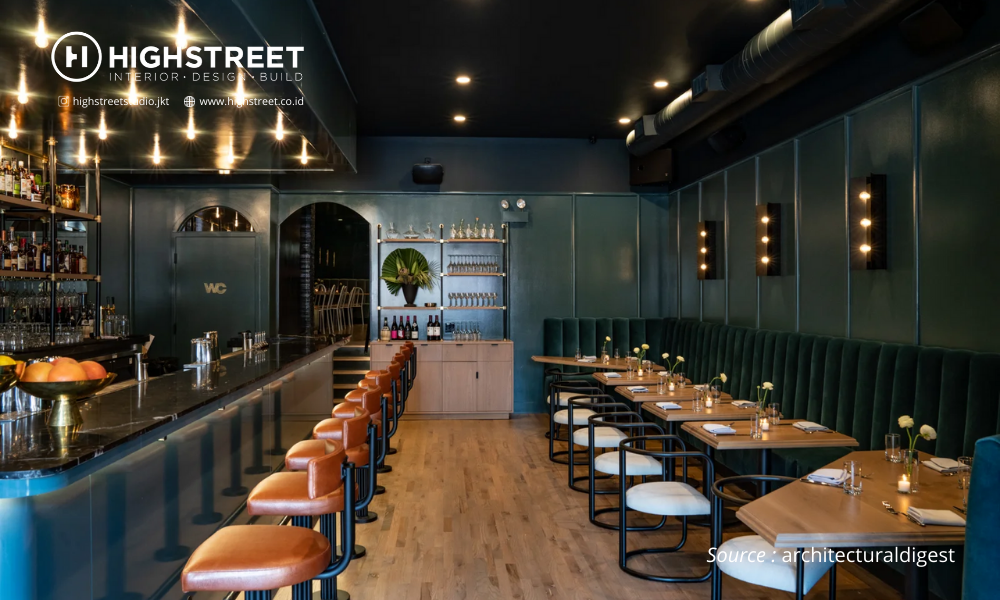 In Japan, the key to a restaurant that can adapt to new normal conditions is in the layout of the restaurant and the Izakaya concept is the most common choice in Japan. Japanese-style shops have smaller sized spaces than larger open dining rooms. In Japan, each room in the restaurant has a specific function for a certain group of people to enhance the visiting experience and make customers feel comfortable in the way that best suits their needs. The small space is very different from other restaurants. Apart from that, restaurants can be categorized into several categories or types according to their general function. Here is the most common restaurant interior design concepts to use. each room in the restaurant has a specific function for a certain group of people to improve the visiting experience and make customers feel comfortable in the way that best suits their needs.
Interior Design Restaurant Cell Room
Cell room or what can be called also koshitu is a private room that can accommodate small groups of about two to six people in it. In its application, space can be combined to suit several more people. Applying cell rooms can be separated through walls, light panels, or partitions among other elements. Sometimes, cell rooms can be completely isolated. This type of room in your restaurant can be surrounded by walls and can be accessed through sliding doors.
Restaurant Interior Design Semi-closed
The concept of semi-closed space in your restaurant is similar to an isolated room or cell room, except that the room is made parallel to other rooms and not completely enclosed. Your restaurant can be surrounded by three walls with one tall open. You don't need to use the door to close or open a room. You can also consider the interior design concept that you want to combine with the layout design of the space.
Restaurant Interior Design Use Flexible Sudare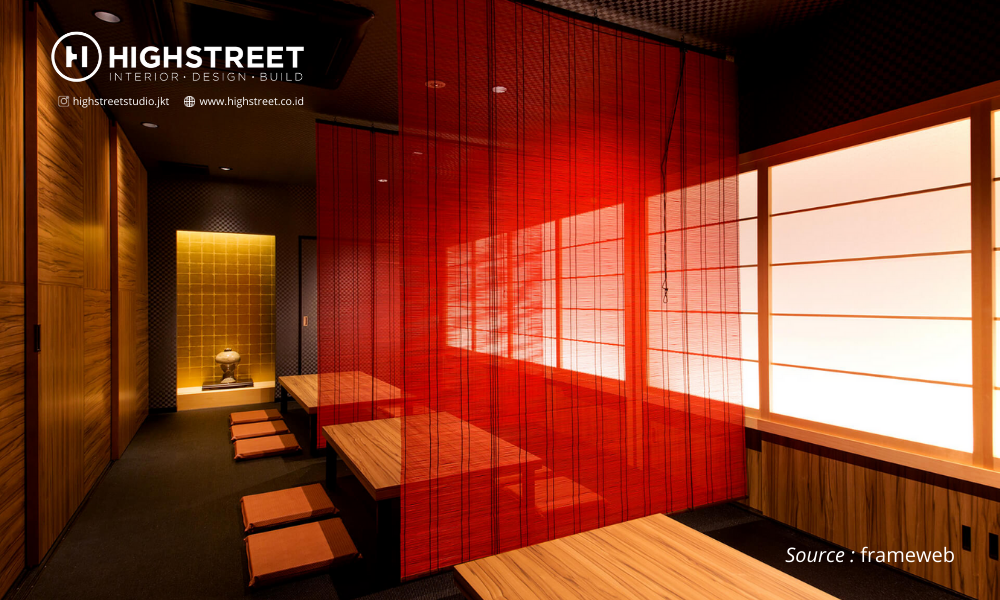 While the two choices of design concepts above provide a high level of protection for your restaurant visitors, the restaurant relies on spatial planning and makes a stiff impression, where each room is designed separately to create the appearance as a dining room. On the other hand, some restaurants may need more flexible space separation and can be adjusted to the size and needs of your restaurant visitors. A typical partition used by Japanese restaurants is the flexible partition called Sudare. This partition is hung from the ceiling with hooks and can be rolled or folded up and down. Although Sudare does not prevent the spread of viruses, you can replace material for this partition with more influential ones.
Interior Design for Counter Rooms
Counter rooms are made for the smallest dining arrangements, from one visitor to two people or a small group. Counter-space dining is the area at the restaurant that most attracts people because the chefs prepare dishes directly in front of visitors and display their techniques like the performing arts you will see. You can count the number of people in the area by arranging seats for four to twelve people, but it depends on the area of the room in your restaurant.
Interior Design for Spatial Layout
Every restaurant needs to accommodate visitors according to their needs to visit your restaurant. Knowing this, every restaurant needs to provide the services needed in each restaurant area. Like the layout of the restaurant with strategic use of space that pays attention not only to the design needs of the restaurant, but also the path of visitors inside, and their privacy. The layout of Japanese restaurants is more interesting than the separation system which can make the restaurant atmosphere cool.
How about the design of your restaurant? Can it adapt to new normal situations like this? If you want to redesign your restaurant or want to open a restaurant and are confused about its design, we can help you make it happen. You can contact our customer service for more information.
Interior Designers: Contact us via Highstreet to realize your dream building and follow our blog for updates on building inspiration.
This article was adapted from https://www.frameweb.com/news/ktx-matsuya-hospitality-space
Share This Article