How to Create Retail Store Interiors in This Uncertain Times
Interior Designers: Contact us via Highstreet to realize the building of your dreams and follow our blog for updates on building design inspiration.
Retail has been around for a long time and is growing with the tone of the many different applications in terms of retail design and the layout of your store by Jakarta interior design. However, there are also some common design strategies that Jakarta interior design uses in designing retail interiors that can be used by you and generate more sales for your store.
Designing your retail interior design is one of the efforts that you can do to improve your business to become more successful and develop in the digital era as it is today. From introducing the story of your brand through design, and creating a comfortable and safe shopping experience for your customers, to interior design that will unify the stunning window display and other important details related to signage. When talking about retail interior design, you have to pay attention to the details in it. Before you use Jakarta interior design, you should know the basics of retail interior design first. Here are the details that you need to consider in designing your retail interior design.
Are you confused about where to start with the layout of your store or retail interior design? Here, you will find some details that you need to pay attention to create effective retail interior design and attract more customers to your store, make consumers explore more products, and encourage them to buy your store's products. It is important to remember the fact that when consumers enter your store they decide to check out or leave your store without making a purchase. Choosing the right retail interior design will make a significant difference in whether you can make your product sold or not.
Pay Attention to Your Store's Entrance Design
The entrance area is the first room your potential customers pass when they enter your store. Typically, this area consists of the first room measuring five to fifteen feet, depending on the overall size of your store. This also becomes a space where your customers make judgments about your store such as, how well lighting, fixtures, interior appearance, and colour. Your customers are in a transition mode, where you are considering shopping at your store or not.
Right Side Area of Retail Interior Design
A general fact about retail interior design is that consumers often turn right without the consumer being aware when entering the store. This can become a habit when consumers want to explore your store. Details that will attract attention are the first walls that can be an attraction for your retail interior. The wall display will act as a first impression that has a high impact on your store's products. So, you should make sure to pay special attention to what you want to show and how you display it. You also definitely want to make sure that the appearance of your retail interior design attracts the attention of your consumers with the products that you display in your store, whether it's a new product or a series of seasonal products, the product with the highest demand or as a place to tell your product story. For some visuals and interesting ideas for your wall display, you can consult with Jakarta interior design.
Provide a Safe Distance Way for Your Customers
As a retail owner, interior design Jakarta prefers to use furniture, displays, shelves and other tools to create a safe and clear path for your customers when you pass through your store. The application of this path will have a design that varies greatly depending on the size and layout of your store. However, as you know that most consumers will usually turn right, so you ensure that consumers will continue to walk throughout your store to get maximum attention to the products in you. That way, it will not only increase the likelihood of them making a purchase, but the path to consumer paths is well thought out to be a great way to strategically explore your store. Some retail interior design choices will make it easier by covering roads with different textures. Another way you need to want when you want to redesign your retail interior is that you want to use the road to get your customers in an area. So, suppose you can consider implementing a display that catches the attention of your consumers, even if it's located at the end of your hallway.
Choose Retail Interior Design that Attracts Consumer Attention
With all the time and effort to collaborate with Jakarta's interior design and to create the retail interior design that you want to attract the attention of consumers, the last thing you want is for consumers to come quickly to the area of the product they are going to buy. To get your customers interested, you can create pauses that force them to stop. Generally, this area can be anything that gives your customers visual attention and you can use signage or special displays in that area. Interior design Jakarta will provide an area that can be special display equipment that can display your products near the end of the store or between the hallways of your store.
However, it is still important for you to think about grouping products with the right displays. Also, you need to remember to display the most advanced product in the 'highest demand' category while placing the product with 'lower demand' at the bottom. You can also change the layout like this every week or just regularly enough to create a new product look.
Ensure Consumers Feel the Comfort in Your Store
Another thing you need to know is about the brush effect where consumers, especially women, will avoid products placed in the Hallway, where they can potentially touch the product. This will also apply if consumers are very interested in the products provided by your store. An easy way to avoid this problem is to ensure that retail interior design in the hallway of your shop, floor, and the display will allow consumers to have more than adequate personal space when browsing your product.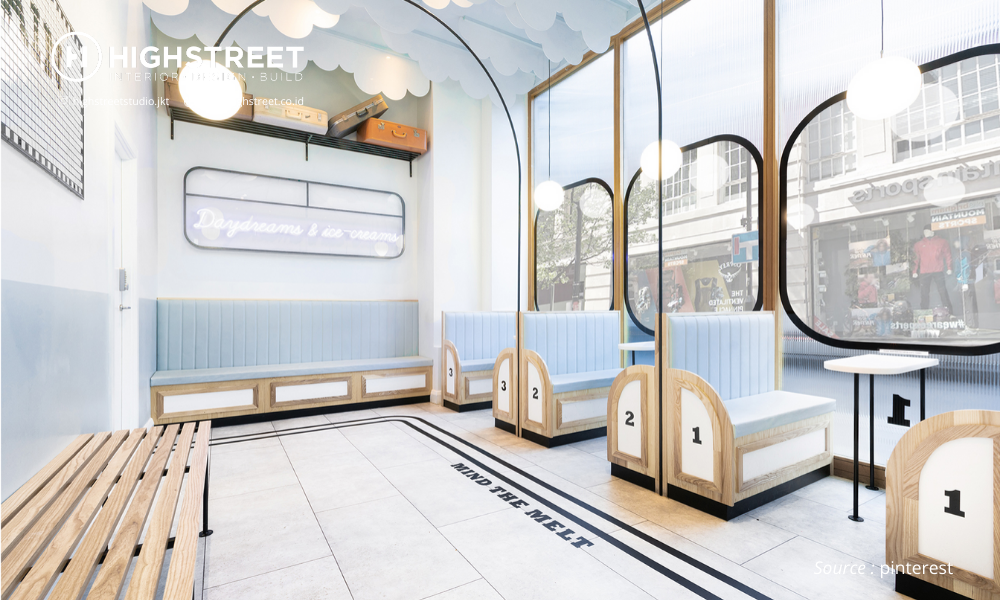 Are you interested in redesigning your retail? You can work with us to change your retail interior design. It's time to change your retail with a more attractive appearance.
Interior Designers: Contact us via Highstreet to realize the building of your dreams and follow our blog for updates on building design inspiration.
Share This Article