Laundry Room Design: The Washer in the Modern Home
posted on September 1, 2020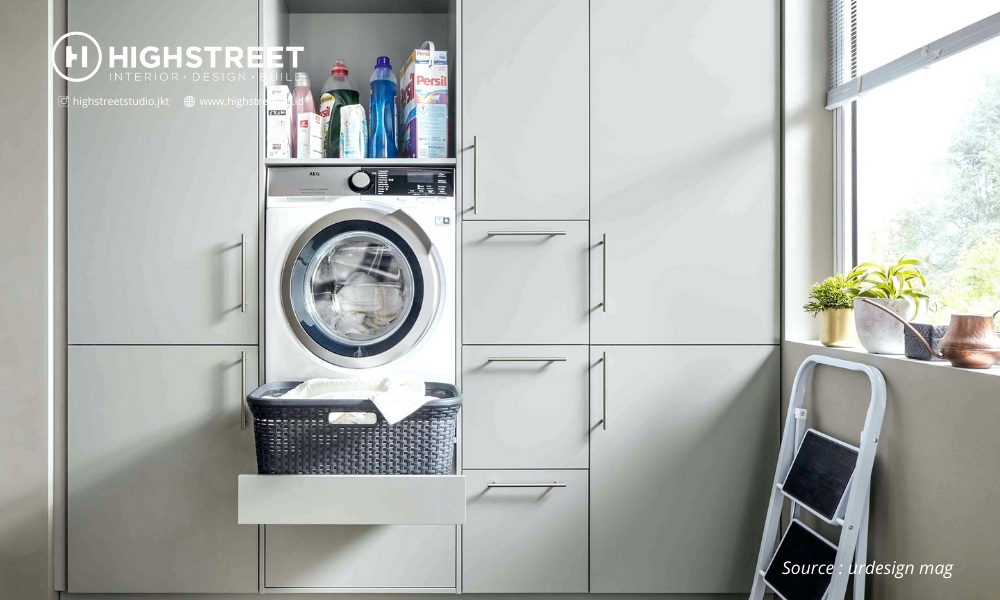 Interior Designers: Contact us via Highstreet to make your dream building come true and follow our blog for updates on building design inspiration.
In residential architecture, there is always an indispensable central space for you and your family, and peripheral spaces that are easier to ignore. When designing a home, it is the job of the architect and interior designer to configure, connect and integrate the various functions most efficiently, it is necessary to prioritize some space over other home design details. And although nowadays many design homes in increasingly diverse ways, you can say that bedrooms, bathrooms, and kitchens are the basic core spaces of any home interior design, facilitating your resting space, food preparation and personal hygiene. Then the interior design in other rooms such as the living room, and other areas that are also important for design, pay attention to the existence of corridors and stairs in the house to connect the rooms. Each room has its function and allows you as the occupant to carry out these functions more easily and comfortably.
Adjust to the Tiny House Design
However, if you have a small size in your bathroom it could mean more space for your other spaces, for example, the living room or you can also eliminate some space that seems to be reduced which can give more space for your needs. more important. In this world that is already overcrowded with increasingly crowded cities, what function have you reduced to make room for other important matters? You can find out what rooms can be reduced and integrated into other areas in your home to provide other functions for these spaces.
With few exceptions in interior design, it seems like a laundry area will become increasingly a luxury in a home where you don't need it. Today, there are still many bathrooms that used to be personal grandchildren to the design of your home, and helpful laundry used to be reduced space, to create a minimum of space that your washing machine can occupy. This tool, the washing machine, is now developing its design with 3D models.
Before industrialization, people had to wash their clothes by hand and the collective washing in European circles in the 1800s became the most common. Especially in rural areas, textile washing is also often done in nearby rivers or wells, heating the water with firewood. However, with the mushrooming of pipes and drains, the process began to move to the interior of the house. A series of utensils for soaking and scrubbing dirty clothes are replaced by better-designed laundry covers, including not only the washing area but also facilities for drying, ironing and storage, which have become complementary in the design of the washing area or laundry room.
Laundry Room Design
Although not everyone has access to these spaces, and in many places, handwashing remains the only option for many families, the manufacture of washing machines also slightly changes model's rules in contemporary home design. There is something unique about the development of the washing machine design that complements the interior of the house, the first washing machine in the late seventeenth century, with a rotating wooden drum that is operated manually, you must have seen it, the design of the washing machine model you often encounter in movie scenes long. This change laid the foundations for the modern washing machine design, evolving into a motorized metal drum and then into the electric washer and washing machine designs designed with the automatic front opening you know and use today. The existing washing machine designs in your home design take on new styles and even add to the possibility of washing and drying in one device. It is very practical for you to put in the washing area or near your bathroom space.
The development and reduction of the washing machine design which has a size of about 60 x 60 cm and a height of no more than 990 cm can help you put it in contemporary home design. The less area you have to design, the more space you can take advantage of, often eliminating laundry space and integrating washing machines in bathrooms, kitchens, or even in closets as well as other furniture that has been specially designed for washing machines. For example, in apartments, designers and architects renovate apartments to maximize the function of the living room, designers and architects can make rooms smaller and minimize the laundry area. By applying the house design, the interior design of the house will directly connect the kitchen, dining room, and a bathroom that was part of the rest of the room before it was designed for the washing machine area. You can just design a laundry room that has a size that is not proportional to your needs as an occupant, reduced to rearrange and expand your kitchen space.
In practice, washing machines that are integrated into the interior design of humid spaces such as kitchens or bathrooms, take advantage of existing drainage systems and generally waterproof surfaces. If you want to put it in the bathroom or kitchen, the appliance can also be covered or hidden with a translucent layer or with simple curtains that are easy to adjust, this solution you can apply to the interior design of your home. In many other designs, vertical space is used to place the washing machine on a high shelf, freeing up floor space in your home.
Solutions to washing area problems in your home design vary and their effectiveness will depend on the detailed design of the available space, dimensions and design models, as well as your habits and needs as the owner of the house. The noise and vibration of the appliance being operated on will influence the general aesthetics of the room design which is a relevant consideration for you. Especially in a small space, every object that complements the interior design must be taken into account and creative thinking, and innovative becomes important so that functionality and comfort in the house can come together to improve the good quality of life.
Apart from the washing machine area, do you have problems in the interior design of your home? If you have a problem in your interior design and want to change it, you can contact our customer service on this website page and we are ready to help you.
For other articles about residential, you can read more on www.hydeliving.co.id and you will find lots of interesting information about residential.
Interior Designers: Contact us via Highstreet to make your dream building come true and follow our blog for updates on building design inspiration.
This article is adapted from archdaily.com
Share This Article