Let's Try! 6 Tips for Being A Successful Interior Design Partner From the Expert
posted on February 11, 2021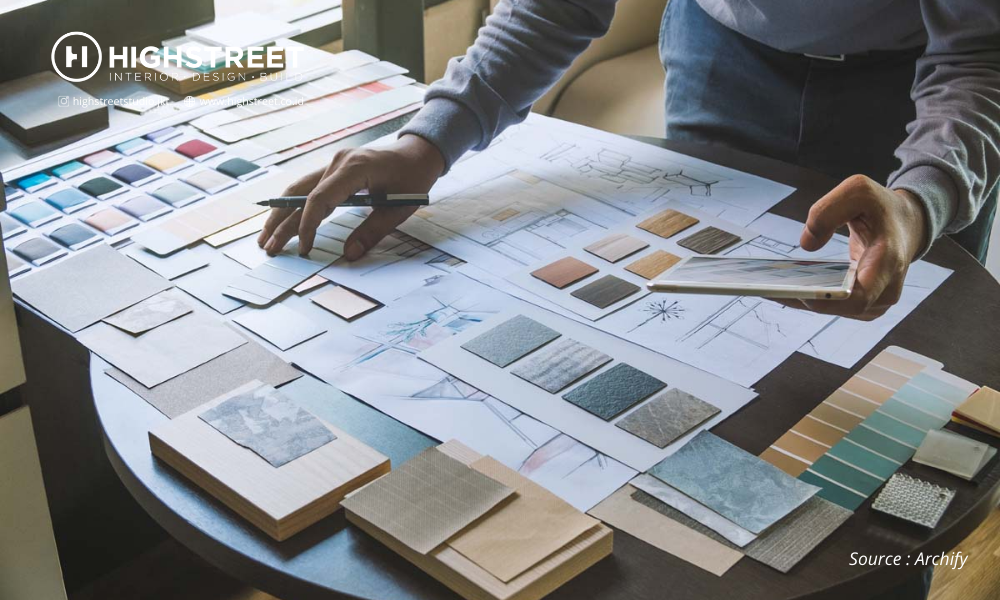 Interior Designer: Contact us via Highstreet to make your dream building come true and join Highstreet to become our interior design partner.
Hyde Living as an award-winning interior designer has completed various residential projects and is here as an interior solution to create the dream home design of many people. The interior designer behind the scenes of every home interior design project they design share tips to become an interior designer. For those of you who want to dream of becoming an interior designer, let's know the following tips so that you don't take the wrong step in starting a career as an interior designer.
How to become an interior designer?
It can be scary when you're just starting out but don't be discouraged. With talent and dedication, it can definitely be achieved!
First, focus on developing skills and portfolios, and use these to land a junior internship or role in an interior design office. There you can learn project management and client management skills. At the same time, specialize in the style you love, and promote yourself online. Before long, you'll start attracting clients of your own.
How much experience do interior designers need?
The most important thing when you start is not to experience as much as skill. You can learn them in a relatively short time, for example by taking a short course in interior design skills. You can go through one year of intensive study and the hard work will be enough to land you a job at an interior design company, and then you can study hands-on parts of work as project management and dealing with clients.
However, having experience in other work environments is a big advantage of being an interior designer. The older you are, the more life experience you have and the better interior designer you will become.
How can a new interior designer develop a portfolio?
When you first start out as an interior designer, there is immense pressure to get multiple projects in your portfolio, otherwise, you feel as though you won't be hired or find clients. However, this is not always the case and we recommend that you try to spend a lot of time creating a mood board and schematic to create a portfolio that shows your creative abilities. Thus, you can promote it to any interior design company or client to show them your vision, style and personal abilities, it doesn't matter if it's not a real project.
Currently, interior design projects can be prepared digitally, so consider creating a mood board digital, 2D visualization, floor plan drawings, 3D rendering, and imagine you are working on a real project. The best thing about doing this type of exercise is that you have no client limits or budget constraints, so you can really let your imagination run free and come up with some innovative designs. Once you've landed a few different projects you can start looking at a great portfolio and you can use this to land new clients or get hired at an interior design company.
What do new interior designers need to know?
Don't just try and go out on your own. Get your first experience working in an interior design company, you will learn a lot from seeing how the company works. And chances are you'll make the first few mistakes in a safe place to make, surrounded by a team that has your back. You will also learn the reality of how long it will take to design, detail, and source projects. Ask questions and ask for help with something instead of struggling alone with it.
It is much better to ask a specialist and do it right than to take risks outside your comfort zone and make mistakes. Don't underestimate how much time it takes to develop a design, especially the technical side of the CAD drawing package and interior contractor specifications. Take care to have experts, such as plumbers and electricians, check all your design drawings from a practical and compliance perspective. Always double-check the height of the furniture when looking for projects, such as the height of the sofa seat and the chair beside the coffee table. And finally, take the time to check the suitability of the product and ingredients when determining it.
Should new interior designers specialize in specific areas of expertise?
It is important for interior designers to think about what they like best. What is the environment and our responsibility towards it? Is it textile, lighting or wood? Immerse yourself in your area of ​​interest and learn as much as you can about it. People are attracted to interior designers who are passionate about their particular speciality and will be ready to take the plunge with you. Remember that you took them on a journey; some clients are very ordinary from the creative world so whatever you introduce them to, whether textile screen printing will be very attractive to them. So be honest with your clients about what you are not good at or interested in. Honesty is better than frustrated clients.
What are interior design companies looking for when hiring a new interior designer?
Since founding Hyde Living, the interior design company has recruited several new interior designer partners and there are several things they are looking for in candidates. Apart from having expertise in interior design, a candidate must have a portfolio that demonstrates their technical drawing skills and their ability to create ideas and solve problems through their designs.
Interior design is a very practical industry, and communication is at the centre of it all, so candidates need to be able to demonstrate how they communicate their ideas both visually and verbally to a variety of people. Although candidates do not need to have a lot of experience, a good understanding of the industry is essential.
You must be able to empathize with your client. Being an interior designer can mean a lot of things, there's a little bit of psychology and a lot of empathy in a project.
When you've designed space or object or whatever and the client likes it, that's why you have to do what you do. That is the best feeling and the best thing about interior designer jobs. If you create something and you put it there and you know that other people are genuinely happy with it, then that is your gift and there is no better feeling!
Are you interested in joining our partner in interior design? You can join us. We provide an opportunity for those of you who want to expand your network as our subcontractors and contractor partners, send us your company profile here.
For other articles regarding the latest information about tips and tricks about home interior design, visit hydeliving.co.id and find out more inspiration for residential interior design.
Interior Designer: Contact us via Highstreet to make your dream building come true and join Highstreet to become our interior design partner.
Share This Article