Millennial's Dream! Try This Office Interior Design Inspiration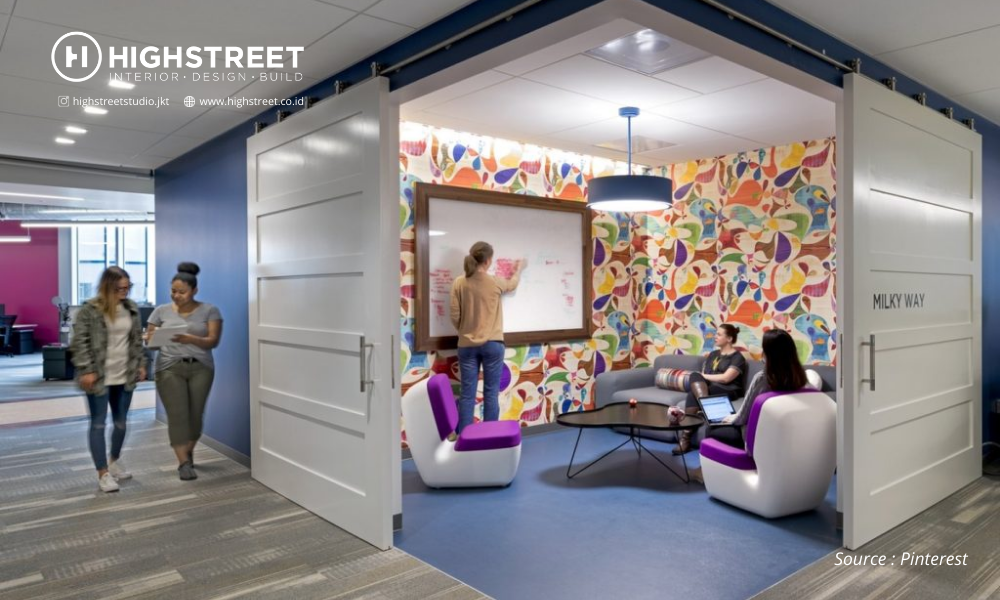 Interior Designer: Contact us via  Highstreet to make your dream building come true and join Highstreet to become our interior design partner.
We all know that the millennial generation is different from previous generations, both in the way they think and the way they work. For example, they tend to be more tech-savvy, and they have higher expectations for their work. They want to enjoy their work, which also means that their offices are less likely to be boring and mundane. So, if you want how to design an office that works for millennials, here's what you should know.
Millennial office interior design may not look any different from other office interior designs, but the main difference is that this design emphasizes employees. In other words, employee happiness and comfort are the most important things in today's office. This is because this generation is dissatisfied with mediocre and poor working conditions. They know they will get better and change the face of the corporate world.
It's a well-known fact that our environment affects the way we work, so it's no surprise that the way you design your office will affect how millennials work. Apart from that, the right design can also convince potential employees to start working for you. Don't be afraid to experiment with your design details and adapt them to your office style and employee tastes.
However, make sure to have some characteristics in your design that will really make it creative and support the values ​​that millennials have.
Open Office Interior Design Rises
offices are Open plan quite popular among millennials, and it's not hard to see why. Millennials want to be involved in communication with other team members because it inspires them to be more creative. For example, if someone comes up with a good idea, an open plan design makes it easy for them to share the idea and discuss it with other team members.
This also creates a better sense of community and comfort, as they won't feel confined in a cramped room. When people communicate more at work, they also create connections that make their work that much more enjoyable. It makes them look forward to working rather than having nightmares about working in the same box every day. After all, millennials are known to be a little talkative generation, so they want to be able to express their thoughts and share ideas with colleagues and an open office makes it possible.
Quiet Office Space Design
Millennials are more aware of the difference between extroverts and introverts. This means that while an open office may be the main office design, there should still be a quiet space available for those who prefer to work in silence. After all, all millennials expect the same, working conditions that meet their needs. When these needs are met, they are more motivated, more productive, and more willing to hang on for a while. This is why quiet offices are often necessary, as it allows fewer employees to reach their full potential as well.
Design Home Office Becomes More Popular
No matter how good an office interior design is, millennials still prefer to work from the comfort of their own home. They want to be comfortable and in a familiar environment - and their own home fits the criteria better than any public office.
Of course, this doesn't always suit the office, so what can be done to keep millennials "working"? The main difference between a corporate office and a home office is the fact that a home office can be designed in any way you want. So, the best way to make millennials comfortable is to get them to personalize their work area. Even small details like picture frames, pen holders and coffee cups can go a long way.
If you want to work harder, you can also let them choose chairs, tables, electronics. After all, there are many quality office furniture solutions of all sizes, so it shouldn't be difficult to find one. something suitable for millennials and company owners. This will make them feel more at home, will increase their productivity, and will make them feel more connected to a company that truly cares about what they want.
Combine Fun Office Interior Designing
Have you ever wondered why Facebook, Google, and other big companies have bean bags, nap pods, slides, and the like that only a lot of people can dream of in their workplace? That's because millennials love fun, even at work. They want their work environment to be entertaining and comfortable, not too formal and boring.
However, this doesn't mean you have to hire a DJ or turn your office into a circus. In this case, less is better. Since we all need a break from time to time, you can dedicate one room just for entertainment and relaxation. Use colour to create a fun atmosphere, and consider adding vending machines for snacks and drinks as well. Who knows, it could become a place of inspiration for younger co-workers.
Green Office Interior Design
Because millennials are more aware of climate change than previous generations, they are also more interested in preserving the environment. This is why they want their office to be environmentally friendly, which luckily isn't too difficult to get to.
For example, workplaces can be made environmentally friendly by installing LED lighting and water-saving fixtures. It must also be well isolated; it should have double pane windows and good wall insulation. There must be plants to clear the air, and there must be plenty of natural light. Also, if the office is filled with computers, laptops and other electronic items, they must be turned off when not in use to save energy.
In short, millennials want a more personal work experience that is different every day. They don't want to work in tiny cubicles and be treated like machines. What they want to do is communicate, make connections, make an impact, and enjoy their work, and they want their office to reflect that. This is why their offices are more creative and built with different personalities in mind. Millennials also care about the environment, so they're more likely to go for eco-friendly options, and they're not afraid to add fun to it.
Do you want to turn your office interior design into a millennial favourite? We can make it happen for you. Contact us today and create a happy office for your employees now!
Interior Designer: Contact us via  Highstreet to make your dream building come true and join Highstreet to become our interior design partner.
Share This Article