Office Interior Design Inspirations That Match Your Workspace
posted on December 4, 2020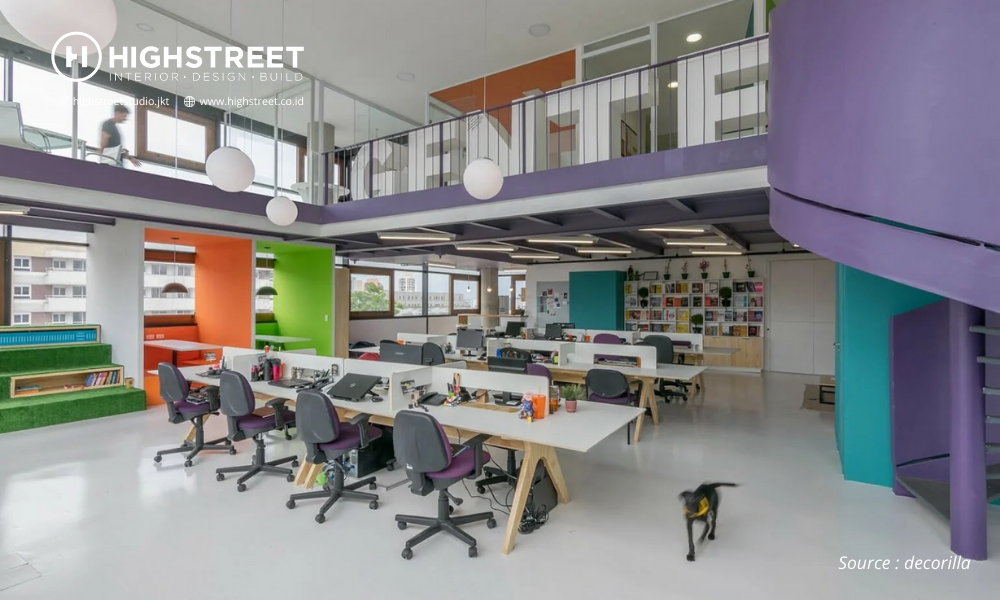 Interior Designer: Contact us via Highstreet to make your dream building come true and join Highstreet to become our interior design partner
How is the interior design of your office now? Are you comfortable enough with the interior design of the office? Do you want to change the interior design of your office?
No need to worry, there are various choices of office interior design concepts that you can apply to your current office interior design. You can change the appearance of the office interior design to suit your needs and desires. Interior design services will help you create a unique character for your interior design, be it a modern, minimalist design style, or an office interior design for the current pandemic.
Office interior design has a variety of design concepts and different functions for each design, so that you don't get confused when deciding which office interior design to implementing in your office, here are some office interior design styles that you can use as a reference.
Minimalist Office Interior Design
What is a minimalist office interior design and how do you design it? How can interchangeable smart glass be a part of it? Minimalist office decoration is characterized by "Less is More", from the design layout to the furniture. Offices that fit the minimalist interior design trend usually have the same characteristics such as an open and airy atmosphere, using neutral materials, simple designed furniture and walls.
But just because you want to keep up with trends and have all of the above doesn't mean that you want to sacrifice employee comfort or reduce the experience of visitors to your office. Using glass office partitions instead of thick walls supports the three defining characteristics of minimalist design mentioned above. But with glass partitions, you must be asking how do you provide privacy without resorting to non-minimalist solutions like bulkheads?
You can use transparent to opaque material to maintain privacy, use whiteboard or projection. It is ideal for glass meeting rooms, private workspaces, entrances, and waiting rooms.
1. Minimalist Office Interior Design Have an Open Atmosphere
When transparent, smart glass partitions allow space to feel open. Open space and the use of glass in offices have been shown to increase transparency, both in design and in corporate culture. But a lack of privacy can reduce productivity.
2. Minimalist Office Interior Design Use Neutral Materials
Glass is the main material that is sleek, light, and, of course, transparent. Heavy drapery makes this neutral material less neutral. The replaceable film is applied directly to the glass, or laminated to the glass, keeping the glass partition simple. You can apply different types of privacy films, such as white, dark, colour, or even custom patterns so that the design can be dynamic.
3. Office Interior Design Choose Simple Furniture and Walls
Partitions are multifunctional such as, when opaque, they act as projection surfaces or whiteboards, eliminating the need for additional elements like portable boards, or retractable projection screens. As you may know, Less is More in a minimalist office, but empty walls are boring and unattractive, therefore you need to hang artwork. Partitions can be dynamic.
Contemporary Office Interior Design
If you are interested in choosing a contemporary office interior design, you can play on choosing the colours that you will use to design a contemporary office interior. Usually, this interior design only uses a choice of one colour in its application. You can choose neutral colours, such as beige which give soft shades, grey, to monochrome colours, white and black.
When you apply a monochrome interior design, you should pay attention to the use of appropriate light in the office space. Well-designed lighting has a function in enhancing the appearance of your contemporary office interior design. That way, the focal point or commonly referred to as the focal point in your contemporary office interior design looks more attractive and brings a fresh atmosphere to your liking.
Classic Office Interior Design Classic
Interior Design, if there is a contemporary concept office interior design, there is also a classic interior design theme. For classic themes, they usually use several colour choices such as classic white combined with greyish blue.
Apart from these two colours, there are still several other colours that you can make a combination of, namely yellow, green and brown for a classic-style office interior design.
By combining these colours, it will create an old atmosphere that is still charming today. The classic style office interior design is also dominated by detailed elements in the design. Choice of wooden furniture so that the atmosphere of the room is more natural and stronger.
The application of several natural colours such as golden yellow, green leaf, earth colour, and wood brown will strengthen the classic atmosphere that is so natural but thick.
Victorian Office Interior Design
Victorian office interior design, this time the office interior has the theme of the venture or better known as victoria. Victorian theme designs are a European product that designers love.
Ventura accentuates the room with the right lighting design that comes from candles and dim lights. The colours you can apply to this design are dark red, dark green and gold.
The addition of rugs to the floor can also create a luxurious and elegant impression in this Victorian themed office interior design. If the classic theme design is to be avoided, then for the Victorian theme neutral colours are explored the most.
Retro Style Office Interior Design
Retro office interior design, if you want a retro office design, you can choose bright colours such as red, blue, and orange.
Besides, geomatic motifs combined with modern designs can also be considered options in implementing retro-themed interior designs.
Well, the decorative elements seen in the selection and placement of room accessories such as lamps, paintings, flower vans and photo frames will provide a comfortable atmosphere.
Bohemian Office Interior Design Bohemian
Style Office Interior Design, the next office interior design is a bohemian style. Bohemian itself is a form of freedom, looks modern and complete with a collection of soft colours.
Besides, bohemians are also synonymous with gipsy, namely migrants because they do not like to live in a place for long periods. The bohemian style is now present because of disorder and uncertainty.
Initially, this design was created spontaneously by utilizing existing objects. Until now, this design has been widely used by many people thanks to its pleasing appearance to the eye. As for the selection of lights, you can use vintage lights for a dramatic impression.
Interior Designer: Contact us via Highstreet to make your dream building come true and join Highstreet to become our interior design partner.
Share This Article