Outdoor Dining Restaurant Could Became Permanent as Design Innovative
posted on August 20, 2020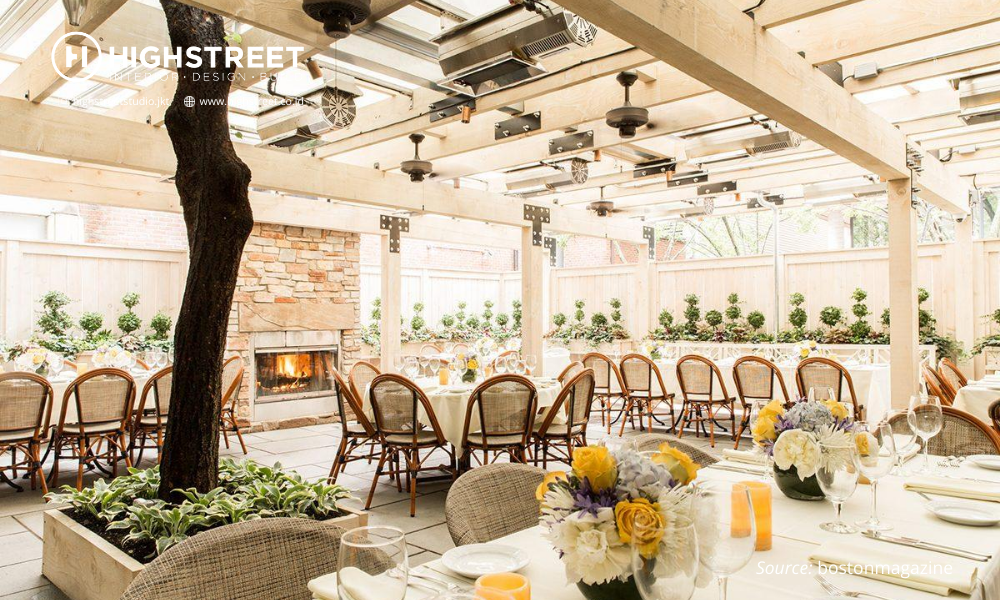 Interior Designers: Contact us via Highstreet to make your dream building come true and follow our blog for updates on building design inspiration.
Outdoors dining room has proven to be the way of life for restaurants not only in Jakarta but across the country, as indoor dining is far from being a favourite dining option at this point in the new COVID-19 pandemic. However, faced with strict policies, architects, designers and restaurant owners in every country are finding creative ways to keep diners from getting infected while designing aesthetically pleasing outdoor dining areas. It is possible that eating alfresco will become part of a health protocol policy, as happened in New York. The city has allowed restaurants to create outdoor dining areas, this policy was created to help small businesses survive, and among the steps proposed in the Open for Business.
New York City's first-ever outdoor dinner program was created when Rockwell Group and the NYC Hospitality Alliance teamed up to create a workable modular design of how visitors can safely fill sidewalks without disrupting the city's pedestrian flow. Ideas for placing enlarged outdoor seating areas in closed streets. More than 9,000 restaurants and bars have successfully opened outdoor dining areas.
However, this policy has a valid time. New York City itself has plans to make outdoor dining areas permanent to help restaurants cope with the future wave of the COVID-19 pandemic. Not only in New York, but California has also explored how to close down roads and create designs that allow restaurants to expand outward at least in the future. Architects and designers have devised design methods that can help stores and restaurants move their operations outdoors. So, not only restaurants can use them outdoors, but retail can also create aesthetic outdoor area designs.
Outdoor Dining Area
While the dining room, bar and restaurant kitchen are important parts of restaurant design, don't forget about the outside and the entrance area. After all, it is the first area your visitors will see. Especially for those of you who want to open the dining area outside your restaurant space. Signs, lighting, seating and decorations are just some of the areas you need to consider when opening a new restaurant.
Lighting and Design of Restaurant Signs
To simplify the design of your restaurant's outdoor area, we recommend parking signs, no smoking, open/close and other signs that you put up outside the entrance of your restaurant must also be properly designed. They will look good and last longer than simple handwritten signs or ones you print yourself.
Apart from signs, you should also pay attention to adequate lighting necessary for the safety and atmosphere of your visitors. A few strategically placed outdoor lights will create sufficient lighting without making visitors uncomfortable. The small lights also add a unique touch to outdoor lighting.
Arrangement of Trash Can
Placing a trash can or cigarette holder next to your entrance can prevent the cigarette picks from dumping on the ground. However, many people may not like having to walk through smoke to enter your restaurant. And you should also consider that many cities and countries have policies that prohibit smoking from more than any public entrance. Especially in a pandemic situation, you have to keep your restaurant clean so that visitors feel safe and comfortable.
Restaurant Information
If you want to create an outdoor dining area, then installing an outdoor menu board or glass menu box installed next to the entrance of your new restaurant is a great way to showcase your new restaurant's food menu and lure some passers-by. Don't forget to make sure your restaurant has adequate lighting for the menu board, so diners can read it at night too. Along with wall-mounted menu boards, you can also use boards on the sidewalk to advertise specials at your restaurant.
Open Seating Arrangement
If you have space, you can place a bench or two for your visitors to wait, you need to arrange the seats according to the health protocol policy during the CCOVID-19 pandemic. You can also set up some small tables and chairs, which are styled to have a function reminiscent of the design of a French roadside cafe. Not only the seating layout, but you also have to choose furniture that is attractive and durable. While you may be able to find some outdoor furniture, you should choose sturdy outdoor furniture, ideal for commercial use, in a variety of styles to suit your restaurant concept or design theme.
Beautify Your Outdoor Dining Area
You can extend the atmosphere of your restaurant to your entrance area with music. Many restaurants use restaurant design concepts like this. Coupled with the pandemic, architects, designers and restaurant owners designed the dining area outside the restaurant with the right and safe design for visitors. If you want to bring music with you, make sure your music isn't too loud for the streets. The tent in the entrance area of your restaurant also has many uses. This will protect your visitors from rain and sun and serve as a sign for your restaurant. And it adds a friendly atmosphere to the restaurant. You have to choose a specific restaurant colour and design that matches your restaurant design theme.
Several windows which are furnished with interior decorations can add an interesting look to your restaurant design. This is an easy and low budget way to decorate your restaurant. Even if you are hesitant about placing green tones in your restaurant, you can ask your restaurant employees to keep an eye on the plants by watering and pruning your restaurant's plants.
Those are the things you should pay attention to if you want to design an outdoor dining area for your restaurant. If you need professional help in designing a restaurant, you can contact us via customer service on this page.
Interior Designers: Contact us via Highstreet to make your dream building come true and follow our blog for updates on building design inspiration.
This article is adapted from archdaily.com
Share This Article