Still Trendy, This Coworking Interior Design Idea Makes You Envy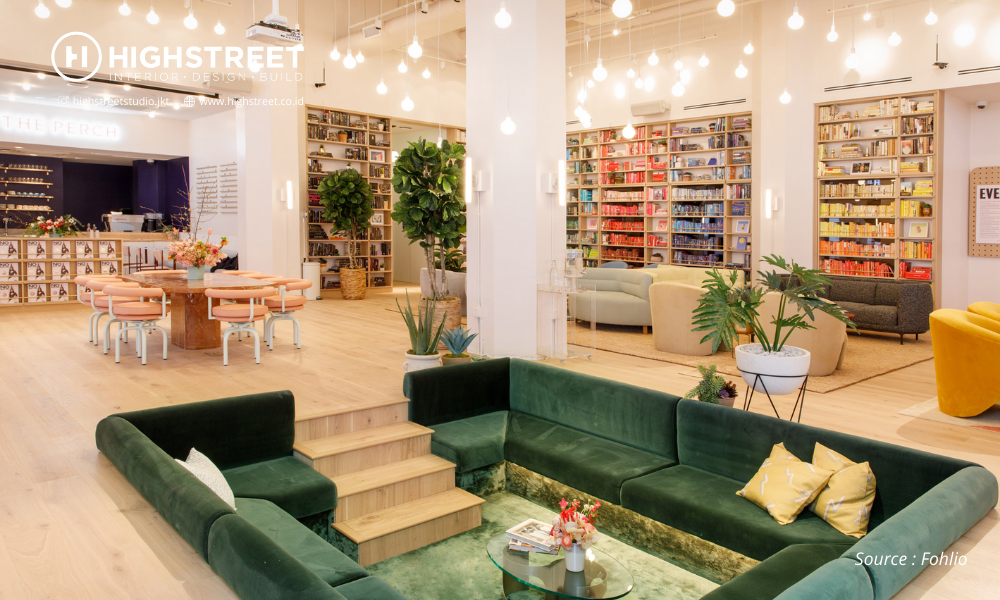 Interior Designer: Contact us via  Highstreet to make your dream building come true and join Highstreet to become our interior design partner.
'Wow!' It can be every visitor's first reaction might design if you get the right design coworking space. Location and price are the only determining factors for such a room for sale is a myth! It's a design that can make or break space. Besides, the co-working space design is similar to a traditional 9 to 5 o'clock office, eliminating all spirit of teamwork. Employees are truly looking for flexible workspaces that inspire them to return to work every day. And for.
But first, what are the latest trends to consider for design coworking space? We'll help you! Good interiors, perfect lighting, and fresh air to breathe are the minimum requirements for a productive workspace. Even though that statement is true, just relying on it is out of date. Because the aesthetic and fun space encourages people to make it their professional residence. And these office interior design inspirations will help you make it happen!
So, ready to give something new to office interior design? This is it!
But First - Budget
Because you need money to buy design items coworking space. Depending on your size, location, potential co-workers, etc., of your space, sketch the amount you deem fit. To start with, take a good stock of what you already have and make full use of it. Then consider how much you are willing and able to spend the rest.
For example, if you have an extra-wide ladder, add the budget to install a seat on it. Or if you have a great outdoor view, prefer glass walls to concrete ones. Make excellent use of the location.
Tips:
To get the optimal budget, first, study the layout plan for the design of your co-working space. Then check what will be placed where and the possible price. At this point, you have more flexibility to work with the design.
The coworking space design can also be done in stages if it suits your budget needs. If budget is limited, explore online shops, to local bazaars. Or ask a local maker to imitate furniture. Sometimes that latent talent does an extraordinary job.
Office Design Inspire
Your neighbour's beach, cafe, train station, or living room, take inspiration from anything that has the potential to steal hearts. For example, Warszawski Ul in Warsaw is designed straight out of the famous American period drama, 'Mad Men'. Meanwhile, Porter in Sydney has a themed coworking space design working in luxury. Another great inspiration is 9 3/4 in Medellin, Colombia, a bookstore and cafe with a cosy hexagonal corner. design coworking space The US-based Brooklyn Boulders'makes it a haven for adventure seekers.
Tips:
Measure the preferences and desires of your prospective members. Ask yourself - What do they find most appealing to them, chic office space or minimalist décor? Or maybe, something completely different!
There are two best ways to explore design ideas in coworking space. One way is to travel alone, the other is the internet (especially on Pinterest, to Flickr). Do it!
Remember! When choosing a design a coworking space, don't overdo it. What's more, if you choose a theme or inspiration that doesn't fit into your budget. Some themes will always be more affordable to install than others. And yes, you have to think about it first and it will make all the difference!
Design Coworking Flexible
Most coworkers desire a flexible workspace that is easy to scale. And for that, you first need to focus on the floor plan layout. Plan your coworking space design well in advance. If you have a small space, choose an open plan. And if you have a large area, you can experiment with different sizes of offices and meeting rooms. Second, to keep your space flexible, you should choose a wall that opens over a wall made of brick and mortar.
So if a member needs a bigger office, all you have to do is push up a few walls. Third, furniture that can be folded or stacked will also help. Which will help you easily store extra furniture, and also use open space for events when needed.
Tips:
Not everyone likes open spaces, and not all need enclosed spaces. So depending on the area, write both in the design coworking space.
In fact, another important space needed is to store extra furniture. Don't miss it.
Flexibility is great, but if not exercised wisely, it can clutter up your space. So don't compromise on comfort and space while trying to fit things in. You have to be adaptable but within the right limits.
Elegant Entrance Design
First impression matters! And to create your own, a beautiful reception area or lobby, to welcome employees and guests will work wonders. Plus, this has got to be one of the best spots in your entire room. Artistic background, live plants, good lighting, fancy front desk, are some must-tick checkboxes. Make it a summary of the design coworking space that you have included in the interior. Keep it spacious, clean, fresh and tidy, and try adding the curiosity factor.
Tips:
You can be as innovative as possible with this space.
Give extra focus to the luxurious lighting in this area.
Luxury and designer sofas or chairs will be the most elegant seating options here.
How about interior design coworking your? Are you feeling out of date? It's time for you to change the interior design to coworking become more modern. If you are confused about choosing the right design choice, we can be the interior solution for you. Contact us now through this website and create a coworking comfortable for you and your employees!
This article is adapted from Coworking Space Design Ideas.
Interior Designer: Contact us via  Highstreet to make your dream building come true and join Highstreet to become our interior design partner.
Share This Article