Strategy in the Pandemic, Hotel Interior Design Turns into Co-working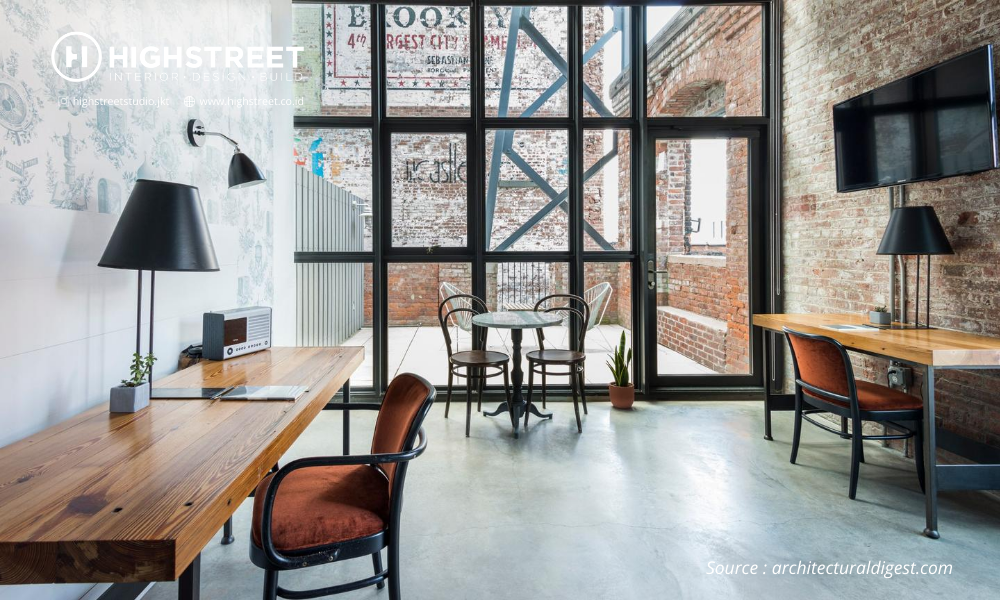 Interior Designers: Contact us via Highstreet to realize the building of your dreams and follow our blog for updates on building design inspiration.
It's not just offices that can adapt to new, flexible ways of working in times of a pandemic like this. More and more hotels are looking to get involved in creating flexible spaces, transforming the interior design of less used spaces in outdated slum areas into co-working spaces that are designed to be more modern, modern and dynamic.
Even before major cities in Indonesia adopted Large-Scale Social Restrictions policies a few months ago, many companies started enforcing work from home for employees. While many people enjoy the sudden freedom afforded by creating their schedule and not having to travel, others lose the ability to focus on productivity amid the sometimes countless home distractions.
Hotel Interior Design Changes
Knowing the obstacles faced by some people who work from home, the hotel industry is aggressively offering a variety of innovations to attract customers during the COVID-19 pandemic. Of the several hotels that embody co-working interior design, one of them is the Brooklyn Wythe Hotel in the United States which completely changed the interior design of its hotel rooms into a co-working space or call it a co-working space to provide comfort to employees who work remotely.
This four-star hotel is working with the interior design of the workspace to provide complete office space facilities for hotel guests during the COVID-19 pandemic. With many offices still closed due to lockdowns in several cities. The changes to Whythe Hotel's interior design are intended to offer remote employees with access to a flexible, clean and fully equipped workspace.
Each workspace design in this hotel can accommodate about 4 people, equipped with various complete facilities such as Wi-Fi, smart television, printing machine, wooden tables and chairs, as well as lamps placed on each table. The furniture in the bedroom is replaced by a sitting or standing wooden table and chairs and a table lamp made of black metal. The final result of changing the interior design can complement the industrial aesthetic of the room from exposed concrete floors and brick walls. With a hotel that is equipped with a workspace, it will make employees feel safe and comfortable so that they become more productive while working. Besides, the interior design changes made at Wythe Hotel are due to seeing how the concept of traditional work has disrupted office activities that are usually carried out by employees.
In addition to changing the interior design of the hotel, Wythe Hotel also ensures the health and safety of its guests by providing hand sanitizers, checking the body temperature of everyone entering the hotel, and requiring guests to wear masks. Are you interested in working at a hotel?
Other architects and interior designers also predict the same way that office interior designs will change. British Interior Design Sevil Peach says office interior design will become smaller, while Form4 Architecture founder Paul Fero believes cubicle interior design will become more common in all offices. Interior design directors Perkins and Will Meena Krenek said the office would balance the concept of physical and virtual work and proposed designing physical spaces for meetings. The Woods Bagot company also created a diagram of the workplace during the COVID-19 virus that combines the concept of work from home and office.
New Hotel Lobby Interior Design
The hotel lobby becomes the main area to be converted into a co-working space. Usually, during the morning and evening, the hotel lobby becomes a quiet place and many people are looking for a space to work by getting comfortable furniture, electrical outlet, free Wi-Fi, as well as food and drinks that are available. Some hotels that have adapted hotel interior designs into workplaces will encourage more people to visit the hotel. In other words, someone who chooses to work from a hotel and has a positive experience while working may one day book a room at that hotel.
The hospitality industry is all about providing high-quality services and facilities to create a good experience for visitors, and that is what employees who are currently choosing hotels for new workspaces during this pandemic are expecting. More hotels are now adding to the offer by providing guests with the right workspace. However, what kind of workspace interior design is right to be applied to hotel interior design? So that you are not wrong if you want to adapt your hotel interior design to an office interior design, here are some elements that must be considered.
Floor Design Differences
If you want to make the right workspace interior design for your hotel, you have to choose the part that requires renovation or you can design your entire hotel lobby into a workspace. You can also use interior design services to make changes to the interior design of your hotel. Interior design services will measure the total area of your hotel that you want to convert into a workplace. To make it easier for you, you can ask an interior design service to offer some designs that are right to be applied to your hotel area.
Hotel Lighting Design
Lighting design plays a major role in the interior design of the office. Whatever type of design you choose, make sure that interior design services install the right lighting system in your office. Lighting can determine whether the atmosphere of the workspace at your hotel will end up right or not. Good lighting can make guests who work from the office in a comfort zone. The choice of lighting depends on the interior design of the office that you want to apply to your hotel, so that eye strain on your guests is avoided. You can use an economical lighting resource that will be very profitable.
Colour Selection in Office Interior Design
Wall colour is an important part of interior design. You can choose a colour that will add brightness to the workspace in your hotel. Some of the colours that you can choose from interior design services are pale blue, soft green, or cream colours. Smooth colours can create a good work atmosphere.
Do you want to change the interior design of your hotel? There is no harm in adapting it to an office interior design. If you want to give a new feel to your hotel, restaurant or retail, you can contact us on this web page. Realize your dream interior design with us as an interior design service.
Interior Designers: Contact us via Highstreet to realize the building of your dreams and follow our blog for updates on building design inspiration.
This article is adapted from https://www.dezeen.com/2020/07/24/wythe-hotel-offices-remote-working/
Share This Article