Interior Designer Apply This Unique Interior Design Concept to Your House
posted on December 11, 2020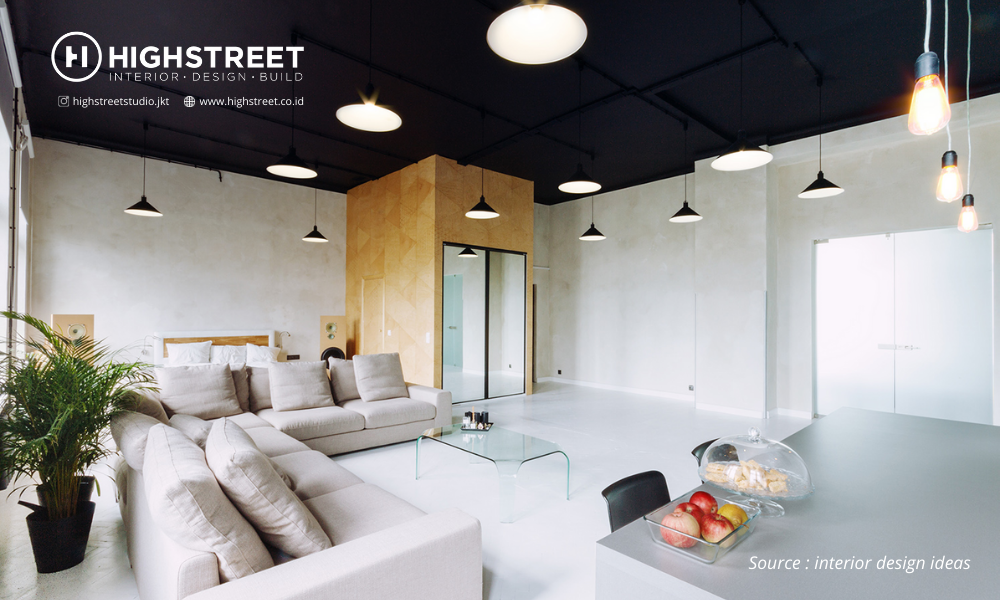 Interior Designer: Contact us via Highstreet to make your dream building come true and join Highstreet to become our interior design partner
Countless studies have shown that certain elements of home interior design can trigger positive or negative emotions. One particular study by the University of Minnesota showed that ceiling height can affect a person's mood. The study also shows that a higher ceiling improves creativity, focus and mood. Not to mention, industry experts are leveraging these findings to create a positive response and fitness- centred home interior design.
Interior design services focusing designing the interior of the house on health is a step design continues to grow; Interior design services recognize that residential and commercial spaces can greatly affect your physical health, as well as your emotional state.
Did you know that, on average, you spend 90% of our time indoors? That's a very high number! It shows you the importance of a residential environment. It shows a correlation between our health and factors such as providing adequate sunlight and natural scenery, using colours that improve mental well-being, acoustics, indoor air quality, ergonomics, furnishings, scents, and more.
The goal here is to design a home interior that is free from harmful substances and toxins, something that can provide optimal comfort conditions, so as not to make everyone feel comfortable. This includes circulation, indoor air quality, natural light, and safe stairs. Here's how to make your home interior design healthy by considering the following points.
Interior Design Services Apply Biophilic Interior Design - Connection with Nature
Biophilia is the idea that humans have an innate tendency to seek connections with nature and other life forms. It is our inherent human connection to the natural world. Biophilic interior design is an innovative way to harness this affinity to create natural environments for us to live, work and study. Home interior design that connects you to nature is proven to inspire you, increase productivity, and even contribute to a stronger sense of well-being.
It is important to present the outdoors and create indoor environments that reference nature in an obvious way.
Not every space can be designed to incorporate all the principles of biophilic design, but often many contributing elements will collectively improve the interior and the well-being of the people in it. It's more than just adding a potted plant or two! Natural light, vegetation, good air quality, living walls, natural textures, materials and natural landscapes will have a positive impact. You know that plants make you happier, help you recharge, and become even more productive.
Interior Design Services Pay Attention to Lighting in Home Interior Design
Why is light important to interior design? Light is increasingly becoming one of the most important elements in home interior design: space designed around natural light sources, intelligent lighting systems to better match our natural rhythms, artificial light that mimics daylight.
When talking about light, natural light is an element that you should pay attention to. Something as simple as natural daylight can provide tremendous health and wellness improvements. Many studies show that lighting increases productivity, alertness, mood - it can affect our physiological or psychological state.
If you just thought about it: how would you feel in a brightly lit room compared to a room with small windows?
Natural light not only affects the day-night rhythm but also the balance of vitamin D you. This is important because it helps you absorb calcium from food. In turn, you need calcium for bone formation and stability.
Additionally, during the day inhibits melatonin production, which ensures you are tired when it gets dark. For people who don't get enough sunlight while working, these two substances are in the body at the wrong time.
The function of Wellness Element in Home Interior Design
Industry expert J Fisher Interior Design says that every homeowner is different and has a unique story to tell through the interior designs they choose for their home. The design and purpose of a room can make you experience certain emotions the moment you walk into it. As you consider how a room affects how you feel and how the design will influence these emotions, look for inspiration from platforms that focus on your ideal function. There are certain perspectives on health-based interior design that experts and homeowners alike agree on. For example, the bedroom should have a relaxed and calm atmosphere that is free from signs of clutter and distraction. This means that it is not ideal to place the TV in your room.
Also, the kitchen must have environmentally friendly equipment. Most contemporary interior designers and architects recognize the influence of space design on emotional and physical well-being, making the fitness function of a space a priority in their work.
Home Interior Design for Personal Space
Using natural materials and organic is an important factor in creating the interior design of the home green and healthy. The first thing to note is not to use paints that contain VOC content. These materials release harmful gases to the eyes and respiratory system. Instead, choose natural materials such as stone, bamboo, wood, and environmentally friendly fibres.
For a better mood enhancer, use pink, lavender, blue, yellow, or green. You can also add plants to improve mood and air quality naturally. Additionally, let natural light penetrate your home through windows and skylights.
When you think about the true meaning of "home", it has to be a place where you can be happy, safe, and healthy. With the right foundation, you can use the power of interior design to create a home that benefits your health and well-being. It all starts with making sustainable choices.
Unique Interior Design
Design your home interior to reflect the lifestyle you want to dream of. If you want to encourage your children to read, be close to a book or create a small reading zone if you want to meditate every morning create a mindful corner. Interior design is about customizing your home to reflect the lifestyle you want.
In the end, what turns a room into a house is its personal touch. And that also applies to improving aspects of health. Find out what little things make you happy and calm when you see them, then fill your house with them.
Design interior focuses on the elements of wellness will become increasingly important in the coming years and become an important factor in the design of the room as functionality, aesthetics, or cost-effectiveness.
For other articles regarding the latest information, to tips and tricks about home interior design, you can visit hydeliving.co.id and find out more residential interior design inspiration. 
Interior Designer: Contact us via Highstreet to make your dream building come true and join Highstreet to become our interior design partner.
This article is adapted from Wellness Focused Interior Design – designing interiors for health and well-being.
Share This Article