Minimalist Home Design with a Monochrome Interior Theme? Why Not!
posted on September 24, 2020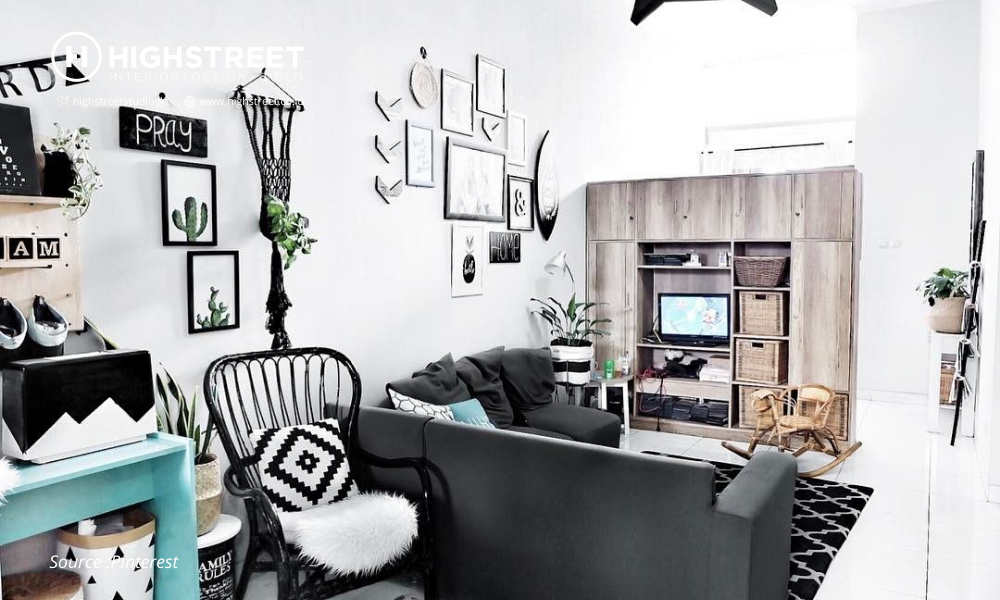 Interior Designers: Contact us via Highstreet to make your dream building come true and follow our blog for updates on building design inspiration.
When redesigning the interior of the room, the first consideration that you usually think of, "what colour do you want to us?". And sometimes, choosing an interior design colour can be the hardest choice of all the interior design elements of the house that you want to use. You can't be the only person excitedly walking into a paint shop and leaving moments later confused by the thousands of similar but different paint options. Who knew there was so much white? And what colour matches the furniture?
One way that you can avoid coordinating colours in the interior design of a room is to design a room with a monochromatic colour palette. This is a very simple way for those of you who want to bring elegance to the interior of your home. Monochromatic colours are becoming increasingly popular in interior design.
In this article, you will find out why using a single colour palette can be a very good choice for interior design in any style, and show you how to redesign the interior appearance of your own home. You may be interested in using monochrome colours in the interior design of the house. To start with, you have to decide which colour to use.
Why Choose Monochrome Colors in Interior Design?
Monochrome colours easily create harmony because they are all from one basic colour. By choosing a monochromatic colour palette, you have an element that holds the colours together from the start in interior design. Monochromatic simply means that you take one basic colour and apply colour theory to create various shades in the interior design of the house by playing with various tones, shades, and tints that can be made from original colours.
For those of you who are starting to experiment with home interior design, the choice to unite the entire room can be daunting. There are so many different components to consider, such as furniture and floors. Using a monochrome colour concept will guide your choice, and combine all colours accordingly. But, surely you will ask questions like, "shouldn't interior design has many different colours?".
By now, of course, you are familiar with the colours you use to fill the interior design of a space that has an impact on you psychologically. While bright colours like orange can make a positive impact indoors, and earth tones make you feel calmer, choosing one colour palette helps you to create a calming environment. That way, you can use a single colour palette to display an attractive interior design in your room.
Monochromatic interior design has a relaxing effect, it is often used in rooms that need a calming atmosphere. Bedroom interior design, of course, is an excellent choice for implementing a monochromatic colour interior. But you don't need to worry that the absorption of monochromatic colours will make the room look unattractive. Making changes with monochrome colours in your bathroom interior design can create a spa-like feel or you can also use it in your children's playroom.
How to Create an Attractive Monochrome Look in a Home Interior Design?
The word "monochromatic interior design" may not be your favourite choice yet. Maybe you are imagining a room where the sofa blends in with the wall and every element of the room has the same colour. However, monochromatic interior design offers more than just one colour.
Since your interior design will tend to stick together, textures and patterns are the easiest and often an affordable way to add visual interest. The application of monochrome to interior design becomes you so that you can let the appearance of the design mix and match them into one.
When you choose an interior design element that suits your room, you should first make sure that the basic colours such as yellow, green, pink or blue will stand out in colour when exposed to light and match the interior design of the room. Two interior design elements that use separate base colours will not look very well matched together, as different from the same base colour can be combined, even when the pattern or texture of the colours varies widely.
You can think of a colour palette that is easy to combine with other colours as the base colour of the room, not the whole colour. You can think of this concept as a cake that the colour you choose to apply is not the whole shape of the pie, but just the filling. But no pie is complete without a shell. In this case, " is a complementary net and accent colour in the interior design of the room?". You can focus on using the main colour with a variety of neutral colours. Pale white and black are also options that can give your eyes a place to rest from the intensity of the main colour shadows.
If you don't want to use neutral colours in your interior design, you can choose natural materials that work the same way. Use wooden furniture to complement your bedroom interior design or a set of metal chairs in a modern style to make the interior design of your dining room interesting. Whatever concept you choose, be sure to provide plenty of interior design elements that can be mixed and matched throughout the room. The right interior design will not only give the interior visuals of the space which is always important, but the right choice of interior design elements will unite the room to give it a professionally designed feel.
Room interior design with a single colour is often not a favourite choice. Some people consider the interior design concept too simple to apply to home interior design. However, if you apply it correctly, you can get an interior design that has a graceful impression.
What do you think about interior design that uses monochromatic colours? Have you used it in your home interior design? If you are still in doubt, you can contact our customer service on this page. We will create a monochromatic interior design in your home according to your expectations. So, you no longer need to worry if you want to use monochromatic colours in your interior design. Monochromatic colours will still make the interior design of your home look attractive and beautiful.
For other articles about residential, you can read more on www.hydeliving.co.id and you will find lots of interesting information about residential.
Interior Designers: Contact us via Highstreet to make your dream building come true and follow our blog for updates on building design inspiration.
Share This Article