Post-Pandemic Design: What's in Store for the Future of Retail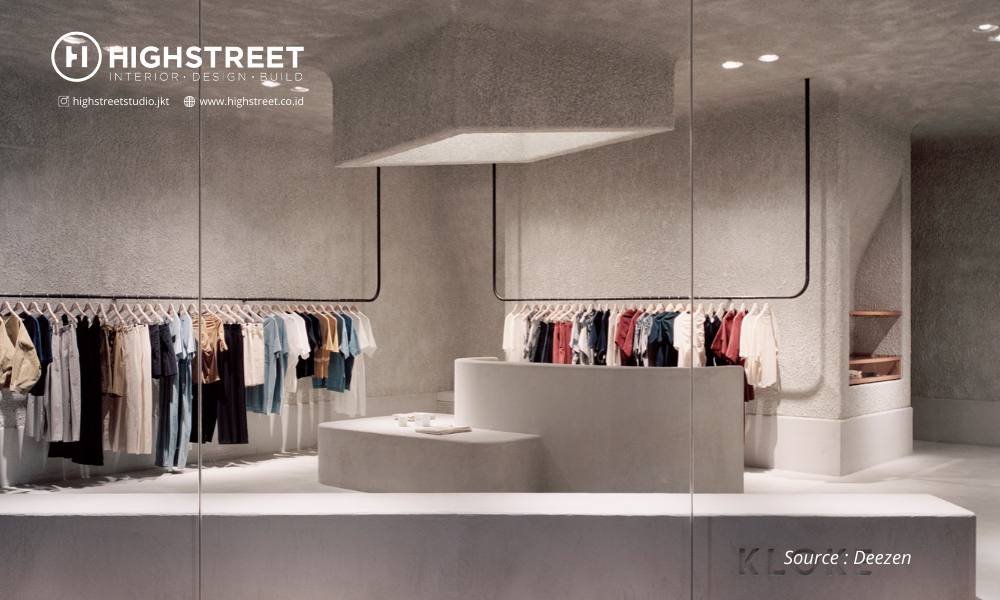 Interior Designers: Contact us via Highstreet to realize your dream building and follow our blog for updates on building design inspiration.
Masks, queued, check body temperature, take the basket, follow the instructions, repeat. The COVID-19 pandemic has changed the consumer journey of retail physical space which is quite quiet. It makes visitors lose the element of spontaneity to buy goods and experiences that make direct visits to retail interesting. However, it doesn't have to be this way, the reality now and maybe in the future can be to introduce lots of opportunities for brands to strengthen their relationships with consumers, making it stronger than ever. Especially for consumers to wonder how they can feel the comfort that was felt before when visiting retail? The post-pandemic reality has indeed changed several things in the retail industry.
Services and relationships with consumers are 'the heart of retail' without exception. A pandemic situation such as this has made retail closed for the past few months during the period of Large-Scale Social Restrictions or PSBB in Indonesia, while the way in retail e-commerce has remained active. It becomes a difficult time for you in the retail industry or if you like retail. When you see no consumers in the store, there are no consumers on the street. However, over the past few months, e-commerce sales have become another option that you can use. After a pandemic, consumer needs are increasingly balanced between likes to go to the store and shop online. As you know if it's in the retail industry, consumers will want to go to the store directly because they want to get experience, new brands, and new products.
Retail Interior Design
Retail comparisons during a pandemic will look very contrast driven by experience and retail that functions as a distribution and not the other, no experience of feeling experienced by consumers. The effects of a pandemic are very different in this industry. In recent months there may be e-commerce adaptations by a wider range of consumers. Some brands immediately shift their focus to digital and people will feel how comfortable it is to shop online. This will make people wonder, whether consumers will return to the store during this transition? How do they feel safe in the store and want to experience shopping without feeling worried? Therefore, the retail industry should work closely with interior design to make the design of your shop safe and comfortable. Achieving a balance between encouraging consumer involvement and building trust will be central to the future of retail. Of course, you don't want your customers to be nervous and alert.
The Combination of Technology with Retail Interior Design
What is seen in practice, as has been proven to be true in some places, is the speed with which some retailers have adapted the appearance of retail designs for the pre-pandemic period. Such a concept, where consumers effectively check in to the store as something that not only can provide security for consumers, but can also appreciate the customer's visit to your store. You can just apply more technology without touch that allows consumers to engage indirectly with stores at various levels of needs without having to touch the area in your store. The biggest possibility that you can do for your retail is to rethink retail preran during this transition. Applying social distance to your store will make you have to prepare a larger space.
Besides, you certainly have time to rethink the post-pandemic design concepts that you want to apply to your retail design. This is an important thing that you need to understand how your store will operate in the future. If you want to use the 'experience' you want to give consumers, you should consider that standing in line for forty minutes is indeed a consumer experience, but it's just not fun for them. The term retail experience is a broad term that consumers get when they are in your store, not a grab-and-go supermarket model.
Improved Interior Design in Retail
To re-create physical retail as something truly meaningful, it is important for your consumers. All that is provided by retail is a set of services that can ideally build certain emotions or put your consumers in the desired cognitive state. Most of what has been done so far for the experience of visiting retail or called experiential retailing must start from how the human brain understands the environment and how all the small sensory elements in the space affect the emotions, cognition, and behaviour of consumers. By increasing through the emphasis on how the space in your retail is created not only can protect consumer health but actively improve it, retailers are rethinking what it means to engage consumers in the store.
The potential to create more emotional connections with your customers is something that is now the role of stores, retail physical space will be considered to have more potential as something that can give your consumers a true experience when visiting. Innovations for your retail interior design must be considered appropriately, where many shops, restaurants, theatres or other places are changing. Although the adaptation in retail interior design at this time is still not perfect. The choice of queuing might be a fundamental part of post-pandemic retail. Like you know, sometimes queuing makes your customers feel uncomfortable, but people will be flexible enough, and adapt quickly.
The most appropriate retail interior design comes from your needs. New solutions need to be designed to deal with this new normal situation, from marking to the layout. It is not good with all the cleaners and marks placed on the ground, there will be many interesting examples of how to incorporate the rules during this transition into the retail environment.
Do you want to adapt your retail design during this transition? Or do you want to give a new impression to your other projects? We can help you to create a design that suits your needs and needs. You can contact our customer service directly on this website.
This article was adapted from https://www.frameweb.com/news/post-pandemic-retail-design-overview
Interior Designers: Contact us via Highstreet to realize your dream building and follow our blog for updates on building design inspiration.
Share This Article